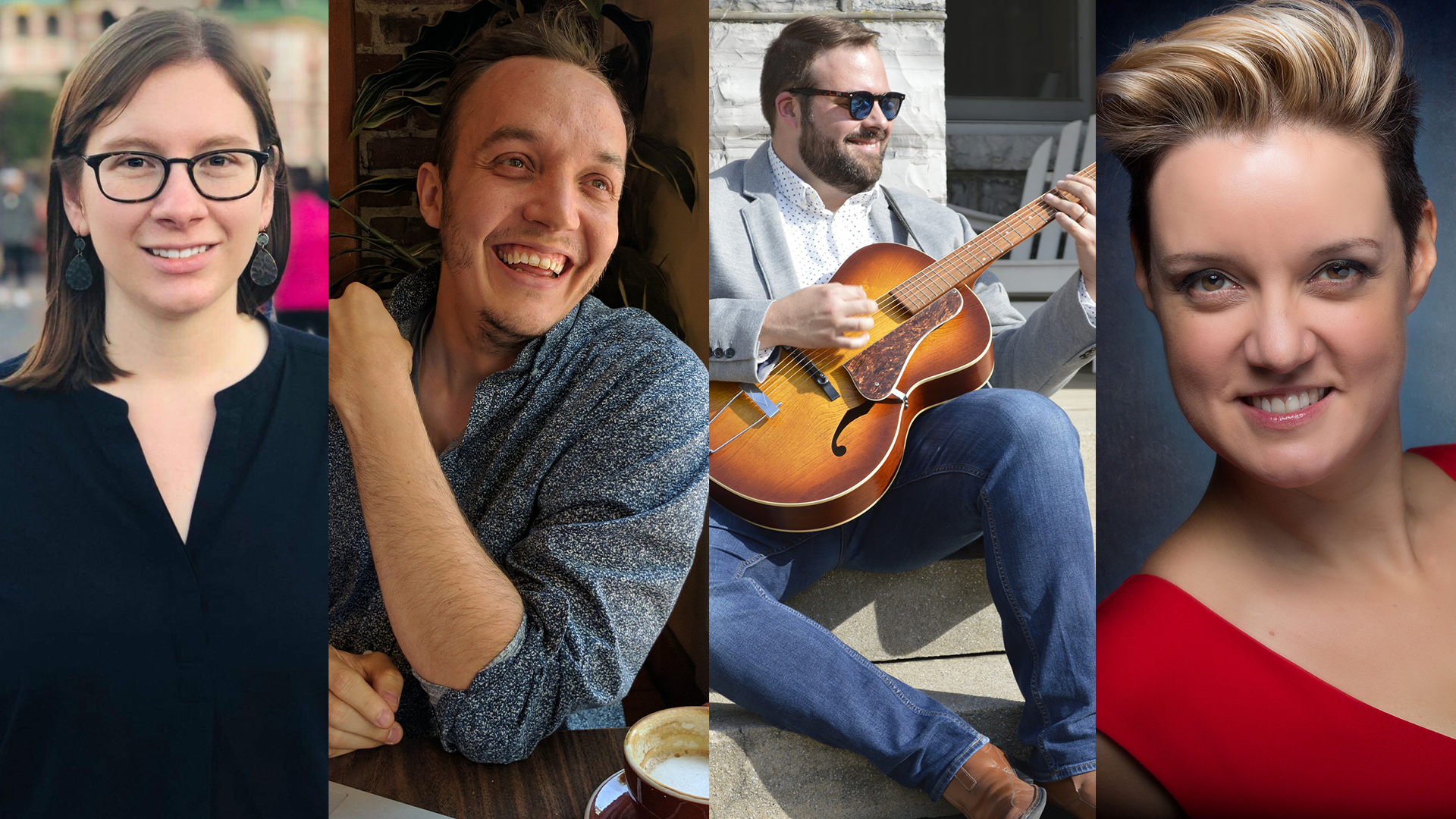 The School of Music is excited to announce the hiring of four new faculty members for the fall: Gabrielle Cornish, Assistant Professor of Musicology; John Walsh, Assistant Professor of Ethnomusicology; Jesse Rathgeber, Assistant Professor of Music Education; and Sarah Brailey, Voice Instructor.
Cornish's research broadly considers music and everyday life in the Soviet Union. In particular, her monograph-in-progress, Socialist Noise: Sound and Soviet Identity after Stalin, traces the intersections between music, technology, and the politics of socialist modernity during the Cold War. Her research has been supported by the Fulbright Program, the American Council of Learned Societies, the American Musicological Society, and the Association for Slavic, East European, and Eurasian Studies. Her writing has appeared in the Journal of Musicology and the Journal of the American Musicological Society, and she has bylines in Slate, The Washington Post, and The New York Times.
"I'm thrilled to be coming to UW–Madison," Cornish said. "The research environment is everything a young scholar could hope for, and I'm eager to work with such a devoted, intelligent, and supportive community of students and scholars. The department is moving in very exciting directions, buoyed by its faculty, staff, and students, and I'm excited to be a part of these transformations."
Rathgeber has been a faculty member at Augustana College in Illinois and James Madison University in Virginia. As part of his teaching, scholarship, and service, Rathgeber has founded AugiePlay and JMUke, both informal, community-based music projects. He also co-founded the Center for Inclusive Music Engagement and co-convened the Disability Studies and Music Education Symposium. Prior to his work at the collegiate level, Rathgeber was K-12 music teacher for Deland-Weldon Community Unit School District 57 and EC-5 general music teacher for Kildeer Countryside School District 96, both in Illinois.
"I'm excited to join everyone at the Mead Witter School of Music and UW–Madison, broadly, in order to build upon the deep and meaningful history of music education scholarship and practice and to help chart new pathways toward inclusive, responsive, critical, just, and playful lifelong music learning," Rathgeber said. 
As an ethnomusicologist, Walsh is broadly interested in the relationships between music and cities. Specifically, his work explores the music scene as a flexible form of collective expressive culture that articulates relations between sociality, materiality, and aesthetics. His current research focuses on contemporary music scenes in Addis Ababa, Ethiopia under conditions of political transformation. Walsh's research has been supported through two Foreign Language and Area Studies Fellowships, the Cota Robles Fellowship, The John L. Simpson Memorial Research Fellowship, the Rocca Pre-Dissertation Research Grant, and UC Berkeley's Institute of International Studies and Center for African Studies.
Brailey, a Wisconsin  native, received her MM and DMA from the Mead Witter School of Music. She has worked as a freelance soloist and chamber artist in New York City and around the globe for the past 15 years in a repertoire that includes historically-informed performance, contemporary classical pieces, and 18th- and 19th-century solo and orchestral music. A prolific recording artist, she won the 2020 Grammy in the category Best Classical Solo Vocal Album for her performance in Dame Ethyl Smyth's The Prison.   She is a member of the Lorelei Ensemble and Roomful of Teeth, and is co-founder of the Just Bach chamber series in Madison as well as Artistic Director of the Handel Aria Competition. 
0
0
Eric Murtaugh
Eric Murtaugh
2023-05-31 14:41:52
2023-05-31 14:41:52
School of Music welcomes new faculty