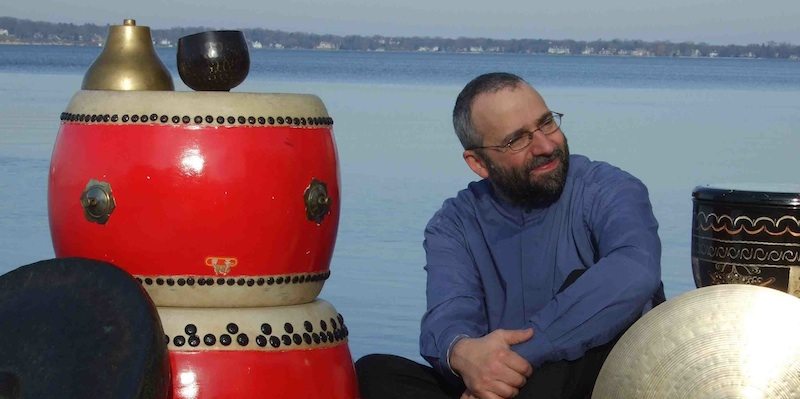 Anthony Di Sanza
Professor of Percussion
Mead Witter School of Music
Studio recordings
Locally Grown
Duniya – In progress
Published compositions
Publications
Percussion industry collaborations
Black Swamp Percussion: Di Sanza Triangle Trigger. A device that allows the percussionist to "trigger" a triangle or a pair of finger cymbals while holding any implement or with the hands. Click here for product demonstration video.
Video
Anthony Di Sanza, a recognized international performer and educator, has performed, presented master classes, and held residencies in North America, Europe and Asia.  He has appeared as a visiting artist at over 50 colleges, universities and conservatories, and has performed as soloist and chamber musician in some of the world's most important concert halls.  Anthony can be heard on over 15 internationally distributed CD recordings with various artists, including; Sole Nero-Piano and Percussion Duo, Mark Hetzler Chamber Ensemble, Linda Maxey with Galaxy Percussion and Keiko Abe and the Michigan Chamber Players.  In review of his 2011 solo CD release, On the nature of…, All Music Guide writes; "Di Sanza dazzles not only in the assurance and polish of his playing but in his tremendous vitality and spontaneity."  In 2015 Anthony's recording of Michael Udow's multiple percussion concerto Moon Shadow was released on the Equilibrium label..
Anthony has performed with numerous orchestras as timpanist or percussionist and currently serves as principal percussionist with the Madison Symphony Orchestra.  He has performed/presented at the Percussive Arts Society International Convention (PASIC) on fifteen separate occasions and studies/performs music from Brazil and the Middle East.  Anthony is regularly involved in the premiering of new works from a wide variety of composers, including with Akira Nishimura, Maki Ishii, Kaoru Wada, Nebojsa Zivkovic, Keiko Abe, Michael Udow, Dave Hollinden, Laura Elise Schwendinger, Les Thimmig, Joseph Koykkar, Payton MacDonald, Jonas Tamulionis and Dennis Wilson.
Also a percussion composer, Di Sanza's 1st concerto for darabukka (Middle Eastern goblet drum) and percussion quartet has been performed internationally and his second concerto, titled Time's Arc, was premiered in 2013 at the Percussive Arts Society International Convention.  He has works published with Alfred, HoneyRock and Tapspace and his book Improvisational Practice Techniques is published by RGM music.  Anthony has a line of signature marimba mallets distributed by Encore Mallets and Black Swamp Percussion produces the Di Sanza Triangle Trigger, which he designed in collaboration with Black Swamp.
Anthony earned the bachelor of music education degree from Youngstown State University and graduate degrees in percussion performance from the University of Michigan.  Currently professor of percussion at the University of Wisconsin–Madison, Anthony is an endorser of Encore Mallets, Black Swamp Percussion, Sabian Cymbals and Remo Drumheads, as well as an educational endorser of Pro-Mark Drumsticks.