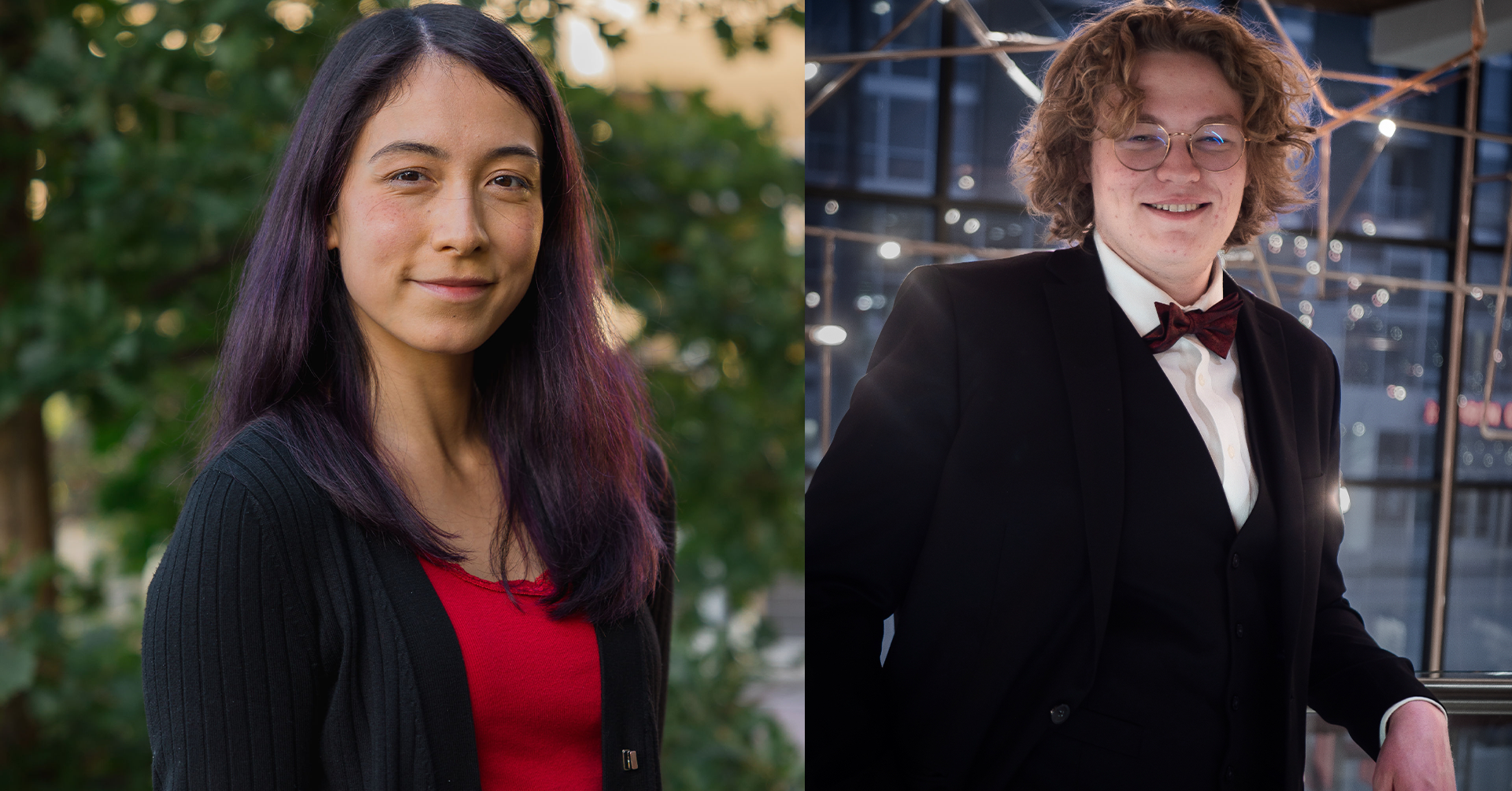 The winners of the 2022 Symphony Orchestra Concerto Competition are Elizabeth Vaughan, piano, and Benjamin Davies Hudson, violin. The results were announced by Director of Orchestral Activities Oriol Sans following the Concerto Competition Finals on November 28 in the Mead Witter Foundation Concert Hall at the Hamel Music Center.
"The judges were highly impressed with the high artistic level of all performances during the finals," Sans said. "Congratulations to all!"
At the finals, Elizabeth performed Sergei Rachmaninov's Piano Concerto No. 3 in D Minor, Op. 30 with Eric Tran as accompanist. Benjamin performed Jean Sibelius' Violin Concerto in D Minor with Calvin Guse as accompanist. The winners will perform with the UW–Madison Symphony Orchestra in spring or fall of 2023.
Concerto competition judges this year included Devin Colbeigh-Morrison, brass; Les Thimmig, jazz; Marisol Kuborn and Alexander Weir, percussion; Lina Lee, piano; Dawn Wohn, strings; Marc Vallon, woodwinds;  and Paul Rowe and Colleen Brooks, voice.
Elizabeth Vaughan is a current DMA student in piano performance and pedagogy under the tutelage of Professors Jessica Johnson and Christopher Taylor. She received her master's degree in piano performance from University of Tennessee-Knoxville, master's in viola performance from Roosevelt University, and bachelor's degree in vocal performance from Lawrence University.
She has performed as a solo pianist with the UT-Knoxville Symphony Orchestra and Lawrence University Symphony Orchestra. She is a first place winner of the MTNA Young Artist Competition in the states of Tennessee and Wisconsin, and second place winner in the MTNA East Central Division. She has also won second place awards at the Wisconsin Federations of Music Clubs competition and the Wisconsin NATS competition.
Elizabeth is a freelance musician in the Chicagoland area, and her performances have been broadcast on 98.7 WFMT and 91.9 WUOT. She has collaborated with musicians from the Chicago Symphony Orchestra and with students and faculty in studios of Roosevelt University, DePaul University, the Lyric Opera of Chicago, and the Music Institute of Chicago. In addition to performing as a pianist, she sings with the Chicago Symphony Chorus.
Benjamin Davies Hudson is a sophomore studying violin with Professor David Perry and viola with Professor Sally Chisholm. Prior to UW–Madison, Benjamin studied with Janet Chisholm shortly after starting the violin at age 7. In high school, Benjamin studied harpsichord maintenance, tuning, and period performance with Trevor Stephenson.
In 2018, Benjamin was a finalist in the Milwaukee Symphony's "Stars of Tomorrow" Concerto Competition and was given the opportunity to solo with the Milwaukee Symphony under the Baton of Maestro Yaniv Dinur performing Saint-Saëns Introduction and Rondo Capriccioso. That same year, Benjamin was a winner of the Wisconsin Youth Symphony Orchestras concerto competition and performed as a soloist with the Wisconsin Chamber Orchestra under the Baton of Maestro Andrew Sewell.
He has worked with Arnold Steinhardt, Uri Vardi, Young Nam Kim, Kenneth Woods, Arianna Kim, Eric Nowlin, Jordan Bak, Siwoo Kim, and Eleanor Bartsch through performance classes and chamber music festivals.
0
0
Eric Murtaugh
Eric Murtaugh
2022-12-20 11:14:37
2022-12-20 11:21:39
Symphony Orchestra Concerto Competition Winners Announced