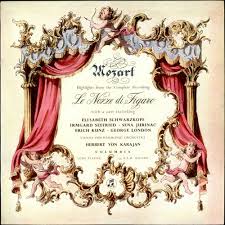 University Opera presents The Marriage of Figaro, Mozart and da Ponte's masterpiece of comedy and intrigue
After the unprecedented success of last spring's sold-out run of The Magic Flute, this fall, University Opera will present four performances of Mozart's The Marriage of Figaro.  This new production will be directed by returning interim opera director, David Ronis, and James Smith will conduct the UW Symphony Orchestra.  The production will involve over 80 UW singers, instrumentalists, and stage crew.
The opera will be performed in Italian with projected English supertitles in the Music Hall, 925 Bascom Mall, on Friday, October 23 at 7:00pm, Saturday, October 24 at 7:00pm, Sunday, October 25 at 3:00pm, and Tuesday, October 27 at 7:00pm.
The Marriage of Figaro was the first of Mozart's collaborations with the formidable librettist, Lorenzo da Ponte, and shows both geniuses at the height of their powers.  Da Ponte based his libretto on Pierre Beaumarchais' seminal play of the same title.  With its topical references and oblique indictment of the French aristocracy, the play was considered scandalous when it opened in 1784.  Although Da Ponte and Mozart's version, written two years later, keenly depicts the underlying tension between the sexes and social classes, it focuses less on the period's political issues and more on the complex humanity of its characters.  Mozart and da Ponte's Figaro, which provides insight into the tenuousness of human relationships via hilarious situational comedy, is at once an eminently delightful, yet profoundly moving work.  Mozart's brilliant score mirrors the complex world it depicts.  Full of stunning arias and intricate yet transparent ensembles, Figaro is one of the crowning achievements of one of the world's great artists.
Although written before Rossini's The Barber of Seville, The Marriage of Figaro represents the continuation of that story.  In Figaro, Count Almaviva, having married Rosina, has taken to philandering.  His downtrodden wife conspires with Figaro, now his valet, and Figaro's bride-to-be, Susanna, the Count's current amorous target, to teach him a lesson.  In the process, all of the relationships in the opera are called into question and undergo both subtle and not so subtle changes.  All is resolved in the end when the Countess's love and devotion wins out as she is reunited with her repentant husband.
Viewing Figaro as a work that is intimately tied to the 18th-century, Director Ronis has assembled a design team to create a traditional setting for the production.  But he also sees it as a piece with tremendous relevance today.  "Even though it can be difficult for modern audiences to relate to men in frock coats and women in hoop skirts, by realistically focusing on the characters' joys, pains, and struggles, it is possible to deliver messages of The Marriage of Figaro in a way that is both entertaining and meaningful in the 21st century," he says.
The large cast of The Marriage of Figaro includes Joel Rathmann and alumnus Benjamin Schultz, who will split performances of the title role; Erin Bryan and Anna Whiteway as Susanna; Brian Schneider and Gavin Waid as Count Almaviva; and Anna Polum and Yanzelmalee Rivera as the Countess.  The role of Cherubino will be split between Alaina Carlson and Kirsten Larson.  In supporting roles, the production will feature Tia Cleveland and Meghan Hilker as Marcellina, alum Thomas Weis as Bartolo, Dennis Gotkowski and Fabian Qamar as Basilio, Kyle Connors and Mikko Utevsky as Antonio, Emi Chen and Emily Weaver as Barbarina, Todd Keller and Jiabao Zhang as Don Curzio.
Assisting Maestro Smith will be Kyle Knox, assistant conductor; Professor John Stowe, harpsichord continuo; Andrew Briggs, cello continuo; Chan Mi Jean and Kangwoo Jin, musical preparation; and Sara Guttenberg, chorus master.
The production will be designed by Dana Fralick, scenery and props; John Frautschy, lighting; Hyewon Park and Sydney Kreiger, costumes; and Jan Ross, wigs.  The production stage manager will be Isabel Karp and the assistant director, Elisheva Pront.  Additional student staff includes Sarah Kunath, master electrician, and Emi Chen, costume assistant.
Tickets are $25.00 for the general public, $20.00 for senior citizens and $10.00 for UW-Madison students, available in advance through the Campus Arts Ticketing office at (608) 265-ARTS and online at http://www.arts.wisc.edu/ (click "box office"). Tickets may also be purchased in person at the Wisconsin Union Theater Box Office Monday-Friday, 11:30 a.m.-5:30 p.m. and Saturdays, 12:00-5:00 p.m. and the Vilas Hall Box Office, Monday-Friday, 11:30 a.m.-5:30 p.m., and after 5:30 p.m. on University Theatre performance evenings.  Because shows often sell out, advance purchase is recommended. If unsold tickets remain, they may be purchased at the door beginning one hour before the performance.
The Carol Rennebohm Auditorium is located in Music Hall, at the foot of Bascom Hill on Park Street.
University Opera is a cultural service of the School of Music at the University of Wisconsin-Madison whose mission is to provide comprehensive operatic training and performance opportunities for our students and operatic programming to the community. For more information, please contact opera@music.wisc.edu. Or visit the School of Music's web site at www.music.wisc.edu/
https://music.wisc.edu/wp-content/uploads/2015/06/Figaro.jpg
225
225
Eric Murtaugh
Eric Murtaugh
2015-09-23 11:14:03
2015-09-23 11:14:03
University Opera presents The Marriage of Figaro: Oct. 23-27