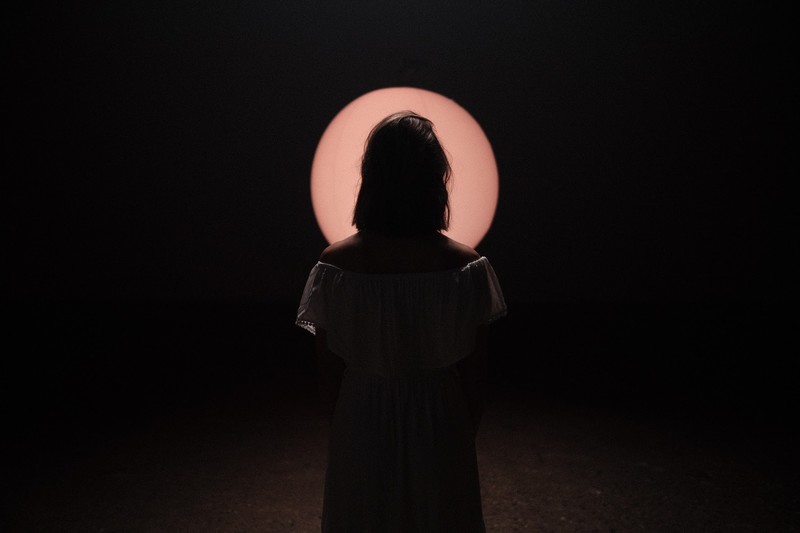 What good is a ghost story if it doesn't make you question a few things in life? Professor of Trumpet Jean Laurenz's abstract ghost story DESCENDED takes viewers on a journey through writer Lafcadio Hearn's themes of haunting supernaturality, marginalization, and the macabre. Inspired by the 19th-century writer's spiritual themes, DESCENDED weaves music, narrative, and a meditation on life's deepest questions. 
"I always grew up hearing Lafcadio's name in my family, but I didn't start reading his content until a few years ago," Laurenz, who is Hearn's great-great-grand niece, said. "The more I read, the more beautiful it became. He inserted himself and his traumas into folk stories in a vivid way. I also felt a connection to him as a young artist who moved every year or so." 
DESCENDED combines thematic materials, quotes, and metamorphic vignettes from Hearn's haunted life and morbid imagination, highlighting his fascination with Buddhist inflected ghost stories and symbols. The film pulls inspiration from all corners of Hearn's writings, but there are five particular pieces which galvanized its narrative content and musical compositions: A Drop of Dew; Of Moon-Desire; Nightmare-Touch; Mujina; and At Hakata.
Hearn (1850-1904) was an eclectic writer and nomad who never found his grounding in a permanent home or literary genre. He wrote about racial inequities and police brutality, while also documenting Voodoo folk songs, Japanese ghost stories, and global folk traditions. His documentation of underrepresented American and global cultures along with their endangered spirit worlds make him a preservationist worth remembering. 
In his day, Hearn stood with literary giants like Poe, Stevenson and Whitman, but his name only remains prominent in small pockets outside of Japan. Traumatized in boyhood, Hearn blends his unique, fear-inspired perspective into metaphysical literature, uniting cognitive existence with paranormal spaces. 
He looked beyond the fleeting facade of human emotion and into the depths of its phantom grip. His examinations of race, marginalized spiritual communities, and the beautiful strangeness of humankind ring true to this day.
Music is a central, guiding component of the film. Performed by Laurenz and friends, the music forms a narrative engine as the artists uncover Hearn's philosophies on eternal memory, infinite wisdom, and supernatural interference. 
"The project began as a concept to create a cross between a visual album and a film," Laurenz said. "In film, the soundtrack is usually created to attach to the narrative arch, but I wanted the music itself to be the narrative arch. I was very inspired by Beyonce's Lemonade and Childish Gambino's 'This is America,' but I also wanted to move beyond lip syncing for the screen or holding my trumpet in a way that could distract from the backbone of the work, which is the life and work of Lafcadio Hearn." 
Laurenz co-directed the film with Four/Ten Media and is also featured as both an actor and a musician. She plays the journeyer and encounters what could be her heritage, her past, her karma, or her infinity. 
Laurenz collaborated with soundscape artist Maria Finkelmeier of MFDynamics on the film's soundtrack, with Finkelmeir writing the music and Laurenz providing vocals and trumpet. Because of the pandemic, each piece had to be tracked separately in different rooms with the musicians almost never playing together while recording, a feat Laurenz called a "scary hurdle to jump."  
"Four/Ten and I created a script based off of their visual concepts and my knowledge of Hearn's writings," Laurenz said. "Maria and I then built a sonic plan and soundscape that would layer on top of the pre-recorded music." 
DESCENDED has received several recognitions and invitations this season from festivals such as the Toronto International Women Film Festival, Munich Music Video Awards, and the Wisconsin Film Festival, to name a few. 
Research support for the project was provided by the Wisconsin Alumni Research Foundation and the UW-Madison Office of the Vice Chancellor for Research and Graduate Education. 
There is also a multimedia performance art piece that is a sister project of the film. This work is part theater, part chamber music, part visual projection art that weaves some of the concepts found in the film together into a 50-minute light and sound show. Laurenz hopes to one day present the film and the performance piece together.
Awards/Recognitions
International Music Video Awards, Award Winner
AWARD: Best Musical Film, February edition
Music Video Underground, International Music Video Competition, Award winner
AWARD: Best Short Film, February edition
Toronto Film Channel Awards
AWARD: Best Art Film, monthly
AWARD: Best Directing of the month 
Toronto International Women Film Festival, Award Winner
AWARD: Best Female Composer, February Edition                                                   
International Short Film Awards
AWARD: Best Experimental Music Video  
Munich Music Video Awards, Nomination
Official Selection                                                         
Wisconsin Film Festival
Official Selection
Hollywood International Golden Age Festival, 2021
Official Selection
0
0
Eric Murtaugh
Eric Murtaugh
2021-03-18 08:59:49
2021-07-24 09:18:02
Abstract ghost story DESCENDED explores life's deepest questions