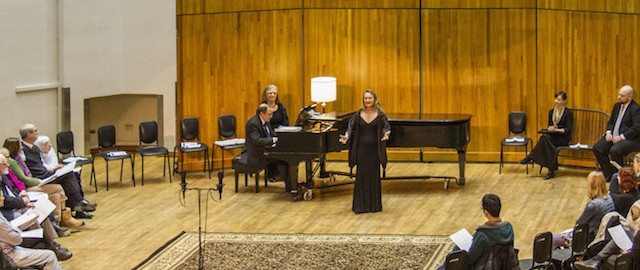 In homage to a beloved composer, the UW-Madison School of Music will present its third annual Schubertiade, an evening of songs, piano duets and chamber music by Franz Schubert, one day before the composer's 219th birthday.
The concert will take place on Saturday evening, January 30, 2016 at 8 p.m. in Mills Concert Hall. The concert is hosted by pianist Martha Fischer, who is professor of collaborative piano and piano at the School of Music, and her pianist husband Bill Lutes, emeritus artist-in-residence. Alumna soprano Jamie-Rose Guarrine, who has sung with many major opera companies including Wolftrap in Washington, D.C., the Santa Fe Opera, the Minnesota Opera, as well as Milwaukee's Florentine Opera and Madison Opera, will be a guest soloist. Guarrine now teaches at the University of Massachusetts at Amherst.
Schubert was born on January 31, 1797, in Himmelpfortgrund, near Vienna in Austria, and died at age 31, yet in that short span managed to write some 600 works for the voice, seven symphonies, operas, chamber music, and much more. He influenced many composers, including Mendelssohn, Liszt, Brahms, and Schumann, and is now considered one of the most important composers of the late Classical and early Romantic eras.
Fischer's and Lutes's association with Schubert dates from their time as graduate students at the New England Conservatory of Music, where they discovered the composer and each other simultaneously. They married in 1984.
Schubertiades, which were popular during Schubert's lifetime, were homey Viennese "house concerts" featuring the composer, fellow musicians and friends that offered music performances, dancing and carousing, often until dawn. At the School of Music, performers and patrons will be on stage together, seated in chairs and on sofas, to attempt to mimic the "house concert" style. For the first time, a public reception will be held afterwards.
The program will include a major work for piano duet, the Allegro in A minor, known as "Lebensstürme" or Life's Storms, performed by Fischer and Lutes. Guarrine will sing one of Schubert's final works, the delightful "Shepherd on the Rock," along with Fischer and clarinet faculty Wesley Warnhoff.
Additional guests will include UW-Madison voice faculty Mimmi Fulmer and Paul Rowe; current University Opera director David Ronis; alumni singers Daniel O'Dea and Benjamin Schultz; current DMA candidate Sara Guttenberg; soprano Marie McManama; UW-Madison horn faculty Daniel Grabois; UW-Madison faculty violinist Soh-hyun Park Altino; UW-Madison faculty violist Sally Chisholm; adjunct professor of clarinet Wesley Warnhoff; alumnus cellist Ben Ferris; and Parry Karp, faculty cellist.
"The overarching idea for this year's Schubertiade is music inspired by the motions and movements of the natural world, especially water, wind, and woodlands, forests and trees," says Lutes. "The poems that Schubert chose for his lieder often feature vivid and evocative imagery from nature, while exploring our human emotional and spiritual responses to the natural world. As Schubert is moved by the natural world, we listeners are moved in turn by the sublime 'nature music' of his songs and instrumental works."
Accordingly, the concert will offer one of Schubert's best loved "water" songs, "Die Forelle" (The Trout) as well as the Theme and Variations movement derived from this song from the famous "Trout" Quintet for piano and strings.
This concert and future Schubertiades are being graciously underwritten by Ann Boyer.
Tickets are $15.00 for adults. Students of all ages are free.

Tickets are available through the Union Theater Box Office. Patrons may buy online ($4 fee) or save the fee and buy in person at Memorial Union or in Mills lobby day of show.
Please note: We recommend that patrons arrive early, both to secure a parking spot and to buy a ticket. Parking will be tight due to UW hockey, but parking passes may be ordered in advance to guarantee a space.
Options include H.C. White Garage (Lot 6); Fluno Center (Lot 83); University Avenue Ramp (Lot 20). VISA is accepted.
Complete this online request form or call the Special Events Office at (608) 262-8683. Please allow two weeks for processing. In the box for "special instructions," please indicate "Schubertiade."
https://music.wisc.edu/wp-content/uploads/2014/06/Schubertiade1WEB.jpg
411
640
Eric Murtaugh
Eric Murtaugh
2015-12-17 13:29:32
2016-01-14 11:13:08
Fischer & Lutes present a third "Schubertiade"