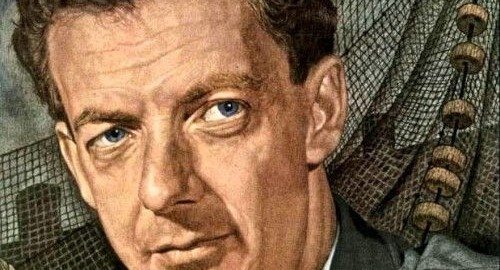 David Ronis, the visiting director of University Opera at the UW-Madison School of Music, doesn't want his opera singers to just "park and bark" their arias. He wants them to truly express the various hidden narrative levels of the opera's libretto and musical score.
In short, he wants them to act as actors do.
It's not a new idea, Ronis says. In fact, he says, the overall trend in opera over the last 30 years has been for opera singers to develop acting skills as keen as their vocal ones–and he considers himself to be part of that movement.
At one point, working in this way was a departure for Ronis himself. He'd been singing professionally in opera for years before he landed a job in the Los Angeles company of Disney's Beauty and the Beast, where he suddenly was surrounded by actors with real technique. After three years there he returned to New York and began to study acting seriously and added acting jobs – spoken theater, commercials, and independent films – to his resume.
It was life-changing. He began to look at operatic acting with new eyes, and discovered he was a bit embarrassed by the quality of much of the work that he saw.
"So I joined some friends – other teachers and directors – whose mission in life was to train opera singers to become better actors," Ronis says. "And my background, being a singer myself as well as a trained actor, has facilitated that. So that's what I work on now: how to use yourself, your imagination, your emotions, and your body, to act the story more effectively."
For Albert Herring, this season's University Opera production and Ronis's first at UW-Madison, that means detailed stage work. "Comedy is harder than drama," he says. "When you're singing an aria about how lonely you are and how you want to commit suicide, it usually has a slower, more sustained inner tempo. Although the emotions are intense, it doesn't require the same kind of technical skill as comedy."
"In comedy, things happen quickly. Characters exchange thoughts, react to each other, and things are constantly bouncing back and forth," he continues.  "So we're spending a lot of time working on those interchanges, and how they manifest in action. The trick is to do it cleanly and with proper timing."
What does Ronis find funny? "I love comedy that arises out of situation," he says. "The first time I saw the play Noises Off, I thought I had died and gone to heaven. I also have a few favorite standup comedians – Chris Rock, Kathy Griffin, Louis CK – as well as few sitcoms like '30 Rock' that I think are deeply funny. The classic TV comedies from the 50s and 60s are fantastic! Yesterday, in rehearsal, I found myself saying to one of the students, 'Okay, you're Lucy! This is a Lucy moment!' "
Did they have any idea what you were talking about? "They did! Yes!"
Learn more about University Opera's Albert Herring, including how to buy tickets.
---
We asked David to tell us a bit more about this background and his plans for the UW-Madison School of Music. Here's his response.
Q: Welcome to Madison, David! You're such a New Yorker – how does it feel to be in the Midwest?
A: I've actually spent quite a bit of time in the Midwest. When I was actively performing, I sang all over the country, frequently spending a good month or more in a given city. So I got pretty comfortable living outside of New York. I've been to Wisconsin a number of times – I sang at both the Skylight and Florentine Opera companies as well as on tour with the New York City Opera National Company in Madison (at the Oscar Mayer Theater) And also in Platteville!
Q: Did you have any connections with the School of Music before you came here?
A: Yes, my good friends Paul and Cheryl Rowe have been here for 16 years. Paul is on the voice faculty and Cheryl is a terrific singer and voice teacher in her own right. It was Paul and Cheryl who encouraged me to apply for the interim position. And I'm glad they did!
Q: What are your plans this year for University Opera?
A: Well, we've selected two shows that I think are perfect for the UW students and for the community. In October, we're doing Benjamin Britten's Albert Herring and in March, Mozart's masterpiece, The Magic Flute. Albert Herring is a terrific comedy with a social message or two that's truly an ensemble piece. Technically, it's a chamber opera, because the orchestra consists of only 13 players.
Albert Herring is also a perfect piece for the intimate Music Hall at UW-Madison which seats 380. Grand opera it isn't. What it is, is a terrific opportunity for young singers and instrumentalists to develop their skills and put on an entertaining, meaningful work. We're very happy to bring this piece to the Madison community. The conductor for Albert Herring is Kyle Knox, a remarkably talented graduate student, studying with orchestra conductor James Smith. It's been a delight collaborating with Kyle on this project and I look forward to working with Jim in the spring.
I actually have a special connection with this work. When I was a young singer, I had the opportunity to travel to the Britten-Pears School in Aldeburgh, England in order perform the title role of Albert Herring as well as to study it with Peter Pears, the original Albert. It was a minimal workshop production, directed by Eric Crozier, Britten's librettist, and Nancy Evans, another original cast member, yet quite memorable for me. I'm very happy to share my one degree of separation from the creation of the work with UW students. It was fantastic to do Albert Herring in the part of England where it not only takes place, but where Britten, Pears, Crozier and the English Opera Group lived and worked.
The spring production, The Magic Flute, will be sung in German with English dialogue. Since we have a full orchestra for the spring production, I wanted to do a piece that had a fairly large cast and chorus, thus offering lots of opportunities for UW students to perform. The Magic Flute is the perfect piece – well-loved and family friendly. One of our missions is to develop new, young audiences, and this opera goes a long way to accomplish that task. We look forward to bringing this work to the Music Hall.
Q: As a Visiting Assistant Professor with a one-year appointment, how do you see your role, as far as continuing and developing University Opera?
A: It's an interesting position to be in. This is truly a year of transition for University Opera. After 16 successful years under William Farlow, I want to make sure that the program continues to grow and develop. One year is long enough to begin a few new initiatives that will hopefully be continued in the years to come. At the top of my list are the program's educational priorities – to provide ways to help students develop their skills and to provide performance opportunities for them. In order to involve as many students as possible in the program, we've double cast some roles in Albert Herring and I'm expecting to do the same in The Magic Flute. As part of the Opera Workshop class (which produces an Opera Scenes program twice a year in addition to the mainstage productions), I've started teaching an Acting for Singers class. Seeing that my personal mission has been to develop better acting standards among opera singers, I'm excited to have the opportunity to help the students with their stage skills. Also, pursuing the part of the mission of University Opera that values community service, I would like to reach out to various arts and civic groups, both on campus and off, to see what kinds of collaborations may be possible – connections that would be mutually beneficial.
Q: Do you have any other observations regarding University Opera or the School of Music in general?
A: Well, I continue to be impressed with the students. They seem hungry for knowledge and to develop their skills. As a group, they are very hard working, and I think that you'll see the results in performance. Susan Cook, the Director of the School of Music, Ben Schultz, the Assistant Director, and the other administrative staff have been very welcoming and helpful as I adjust to new systems and procedures. Likewise the School of Music faculty members I've met. I'm very happy to be among this group and look forward to an exciting year!
https://music.wisc.edu/wp-content/uploads/2014/06/benjamin-britten-153806.jpg
500
500
Eric Murtaugh
Eric Murtaugh
2014-09-19 17:44:49
2014-09-19 17:44:49
David Ronis brings theatrical flair to University Opera