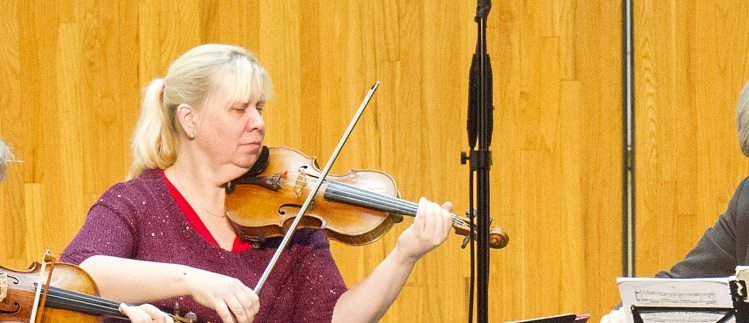 Suzanne Beia
Artist in Residence, Violin
Mead Witter School of Music
Recordings
Tamar Diesendruck Quartets, Centaur Records.
Tamar Diesendruck Theatre of the Ear, Centaur Records.
Mendelssohn Quartets, Op. 13, Op. 44/1, Op. 81/4.
Dvorak Quartets, Op. 34, Op. 51.
Rhodes, Sessions, Mays, with Samuel Rhodes, Viola, Albany Records.
Pro Arte Centennial Anniversary Commissions, Mays, Schoenfield, Bolcom, Harbison, Albany Records.
Pro Arte Centennial Anniversary Commissions, Mermier, Jalbert, Charles Neidich, Clarinet.
Suzanne Beia is second violinist of the Pro Arte Quartet, artist in residence, and chamber music coach for both the School of Music and the Wisconsin Youth Symphony at the University of Wisconsin-Madison.
Beia is concertmaster of the Wisconsin Chamber Orchestra and Madison Opera and associate concertmaster of the Madison Symphony. She performs regularly with the Chicago Philharmonic and with HeartString's Rhapsodie Quartet, an outreach program of the Madison Symphony. Beia has also served as assistant concertmaster of the New World Symphony (Florida) and as concertmaster of the Reno Chamber Orchestra (Nevada), Bay Area Women's Philharmonic (California), Spoleto Festival Orchestra (South Carolina), and Chamber Symphony of San Francisco. She has performed as principal second violin of the Wichita Symphony (Kansas), and has played in the Nice Opera Orchestra (France).
Festival appearances include Chamber Music West, the Telluride and Token Creek festivals, Chamber Music at the Barn, Festival de Prades, and Bach Dancing and Dynamite Society. She has served on the faculties of Rocky Ridge Music Center and Florida International University, and on numerous occasions has performed as soloist with orchestras throughout the United States and Germany. Her solo recordings include Katherine Hoover's double violin concerto on the album Night Skies (Centaur Records).
Beia began musical studies on the viola at the age of ten, but soon shifted to violin, making her solo debut at age fourteen with the North Lake Tahoe Symphony (Nevada). She studied at the Interlochen Arts Academy and the San Francisco Conservatory. Her major teachers have included Theodore Madsen, Roy Malan, Jorja Fleezanis and David Perry. She performs on a 1901 Enrico Marchetti violin.