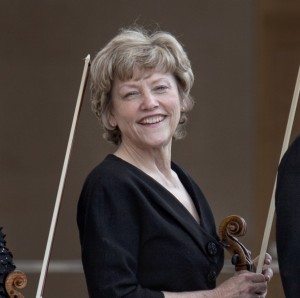 Sally Chisholm
Artist in Residence, Professor of Viola
Mead Witter School of Music
Recordings
Tamar Diesendruck Quartets, Centaur Records
Tamar Diesendruck Theatre of the Ear, Centaur Records
Mendelssohn Quartets, Op. 13, Op. 44/1, Op. 81/4
Dvorak Quartets, Op. 34, Op. 51
Rhodes, Sessions, Mays, with Samuel Rhodes, Viola, Albany Records
Pro Arte Centennial Anniversary Commissions, Mays, Schoenfield, Bolcom, Harbison, Albany Records
Pro Arte Centennial Anniversary Commissions, Mermier, Jalbert, Charles Neidich, Clarinet
Sally Chisholm, violist of the Pro Arte Quartet, and Professor of Viola at the University of Wisconsin-Madison, has had an extensive career in chamber music. She was a founding member of the Thouvenel String Quartet who won first prize at the Weiner International Chamber Music Competition, was a finalist of New York's Naumburg Competition, performed on NBC's TODAY Show, and toured China and Tibet.
Since joining the Pro Arte Quartet in 1991, Ms. Chisholm has performed numerous times in Eastern Europe, served as an international juror in Warsaw, Poland, given concerts in North Korea, and for two decades performed in Ernen, Switzerland, at the Festival Der Zukunft founded by pianist Gyorgy Sebok. Ms. Chisholm is a permanent member of the Northern Lights Chamber Music Institute, and the Chamber Music Society of Minnesota, whose recent guest artists include Charles Neidich, Nobuko Imai, Samuel Rhodes, Peter Wiley, and Leon Fleisher.
Ms. Chisholm frequently serves as Principal Violist of the Chicago Philharmonic and the Joffrey Ballet including their week long residency at Lincoln Center. In 2018 and 2019 she performed numerous concerts in at the Otaru Viola Festival in Japan, and recently gave the world premiere of the John Harbison Viola Sonata. In 2020 she will give viola master classes at the Manhattan School in New York.
Her students include the Principal Violist of the Royal Stockholm Philharmonic, Assistant Principal of Boston Symphony, Violist of the Arianna Quartet, and prize winners of the 2011 Primrose International Viola Competition.
She returns to the Marlboro Music Festival next summer for her eleventh season. Ms. Chisholm holds the the Germain Prévost Professorship at UW-Madison, named for the original violist of the Pro Arte Quartet.