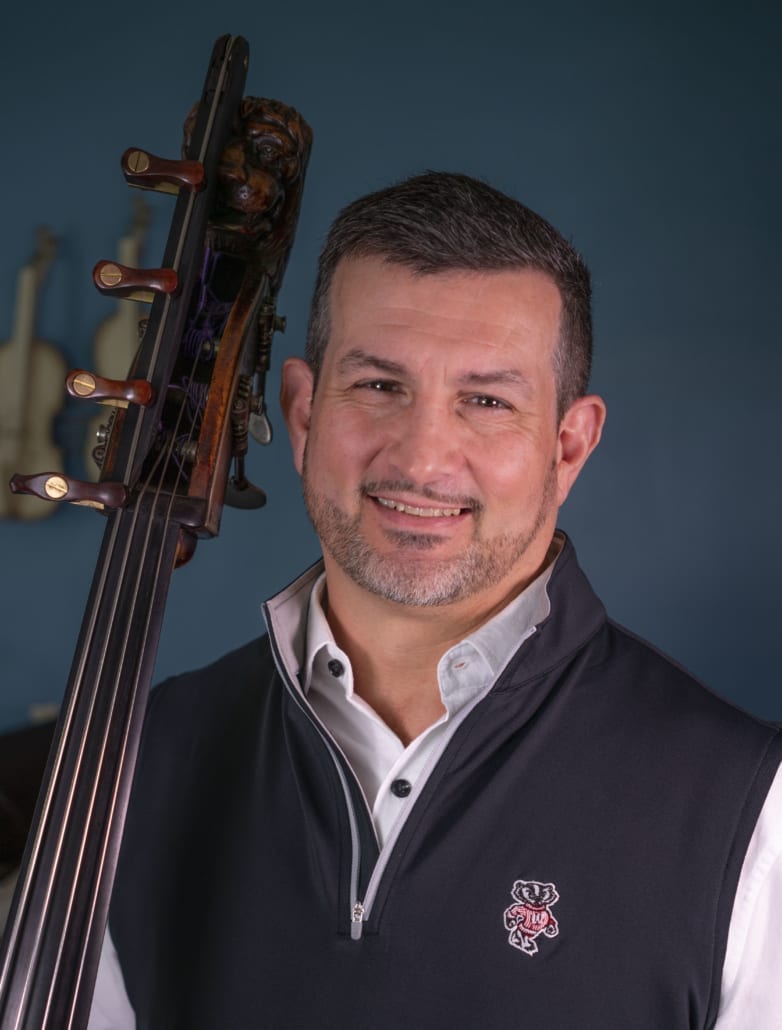 Peter Dominguez
Professor of Double Bass and Jazz
Mead Witter School of Music
Peter Dominguez grew up in Milwaukee, Wisconsin participating in the Music for Youth Orchestras, and performing with his father, pianist and singer Frank DeMiles. His teachers included Willard Feldman and Clyde Russell. Peter went on to study with Roger Ruggeri and Richard Davis at the University of Wisconsin, Madison, where he earned his baccalaureate and masters degrees with a teaching assistantship 1980-82.
In 1981 he was the first recipient of the Milton J. Hinton scholarship competition award.  A teaching assistantship and doctoral studies with Dr. Lucas Drew at the University of Miami, Coral Gables followed in 1982-84. Eventually securing positions in both the Florida Philharmonic and Michigan State University, Peter chose MSU, served as Professor of Double Bass and Jazz Studies 1984-96, and was instrumental in developing their Jazz Studies program.  During his Michigan years, he continued studies with Robert Gladstone and performed with the Detroit Symphony.
The former Principal Bass with the Lansing Symphony Orchestra and the American Sinfonietta, Peter served as Professor of Jazz Studies and Double Bass at Oberlin Conservatory of Music from 1996-2020 and directed the Oberlin Jazz Septet.
Currently he is Professor of Double Bass and Jazz Studies at the University of Wisconsin- Madison. Having pursued over 48 years of double bass performance practice in a variety of musical styles while appearing in venues through out the Americas and Europe, Peter continues to play with an impressive array of Classical, Jazz, and Latin artists.
His teaching activities include national and international classes, International Society of Bassists conferences, adjudication of international competitions, artistic direction of the Richard Davis Foundation for Young Bassist Inc annual conference in Madison Wisconsin, and the director of the bieannial Milt Hinton Institute for Studio Bass at Oberlin Conservatory. His trio recording How About This with Billy Hart and Rick Germanson is available through CD Baby and his solo recording Groove Dreams performed on Milt Hinton's famous double bass is available through Oberlin/Naxos music.
Performance History
Classical Double Bass, *denotes Principal Double Bass
Oberlin Faculty 1996-present, * Credo Orchestra 2013 to present, *The American Sinfonietta 1991-2002, St. Petersburg Quartet 1999-2005, *Lansing Symphony Orchestra 1984-1996, Miami String Quartet 1993-1995, Los Angeles Piano Quartet 1989, *Renaud Chamber Orchestra 1987-1990, Detroit Symphony Orchestra 1986, Orchestra of Miami 1984, Miami Chamber Symphony 1983, Fort Lauderdale Symphony 1983
Jazz Double Bass, selected from 1976 to present.
Greg Bandy, Gary Bartz, Marcus Belgrave, Dave Berkman, Gene Bertoncini, Randy Brecker, Lance Bryant, Ann Hampton Callaway, Tony & Dolph Castellano, Carla Cook, Cyrus Chestnut, Pete Christlieb, John Clayton, Richie Cole, Neal Creque, Bill Cunliffe, Richard Davis, Harold Danko, Frank DeMiles, Bill Dobbins, Allen Eager, Eliane Elias, John Ellis, Robin Eubanks, Dominick Farinacci, Tommy Flanagan, Bob Fraser, Carl Fontana, Hal Galpher, Benito Gonzalez, Jamey Haddad, Jerry Hahn, Billy Hart, Eddie Henderson, Jon Hendricks, Paul Horn, Christian Howes, Joe Hunter, Drene Ivy, Carmen Intorre, Teddy Jackson Jr., Jerome Jennings, Jerry Jemmott, Henry Johnson, JJ Johnson, Sean Jones, Geoff Keezer, Ernie Krivda, Eric Lewis, John Lewis, Joe Locke, Mike Longo, Joe Lovano, Mundell Lowe, Rick Margitza, Mike Marshall, Jason Marsalis, Christian McBride, Bobby McFerrin, Jane Monheit, Michael Phillip Mossman, Mark Murphy, Larry Nozero, Ken Peplowski, Houston Person, Bucky Pizzarelli, Della Reese, Rufus Reid, Patti Richards, Chuck Robinette, Vanessa Rubin, Eddie Russ, Randy Sabien, Paul Samuels, Bobby Sanabria, Jack Shantz, Woody Shaw, Louis Smith, Mark Soskin, Clyde Stubblefield, Ira Sullivan, Dan Wall, Donald Walden, Bobby Watson, Jack Wilkins, Larry Willis, and Stevie Wonder