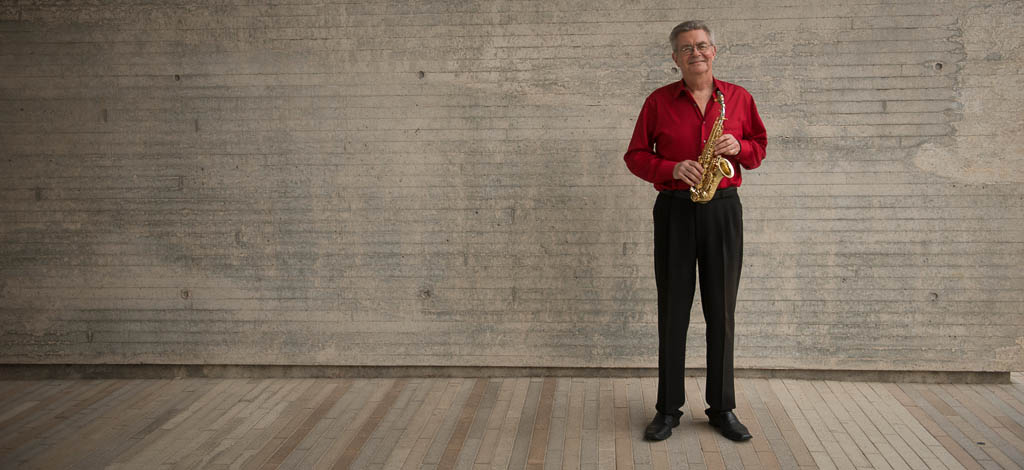 Les Thimmig
Professor of Saxophone
Mead Witter School of Music
Studio recordings
All The Marbles
excerpt this!
Les Thimmig Solo
Next Step
Les Thimmig was born March 19, 1943 in Santa Maria, California. His childhood was spent in Joliet, Illinois, where the many opportunities and motivation of the greater Chicago area allowed him to develop his interests in classical performance (clarinet), jazz performance (saxophone), composition (classical and jazz), and conducting. During his collegiate education (B.M. from Eastman, M.M.A. and D.M.A. from Yale; all in composition), he was also active in the free-lance performing areas of New York City, Boston, and the connecting areas. After a year of teaching in Yale's theory department, he assumed the directorship of the composition/theory department of the University of Victoria (B.C.). After two years, he was brought to the University of Wisconsin to direct the composition program. Several years later, he diversified, adding woodwind performance and jazz studies to his educational offerings. He remains active in all the above-mentioned areas.
His numerous appearances as soloist include those with Parnassus, New England Conservatory Chamber Orchestra, Boston Musica Viva, Dayton Symphony, Milwaukee Symphony, Orquesta Nacional de Venezuela, and New York Philharmonic. His jazz career has included performances with the orchestras of Woody Herman, Lionel Hampton, Oliver Nelson, and Duke Ellington. His compositions have been performed in North and South America, Europe, and Africa. They have been published by G. Schirmer, E. C. Schirmer, Margun, and Turquoise Flame; recorded by CRI, Spectrum, Nonesuch, Stellar, GM, and UW Press. Current commissions include those for Sole Nero, Thimmig-Johnson Duo, and University of Michigan (for hornist Adam Unsworth), as well as a continuing series of solo flute, clarinet, and saxophone vehicles for his solo concerts. Current performing affiliations include membership in The Thimmig-Johnson Duo (Madison), Present Music (Milwaukee), Adam Unsworth Ensemble (Ann Arbor), New Sousa Band (San Francisco), and Chicago Clarinet Ensemble. He is leader of the Les Thimmig 7, the repertoire of which is Thimmig compositions exclusively.
During October 22-November 6, 2009, he was in Brazil, as artist-in-residence at Escola da Musica do Estado de Sao Paulo, where he gave lectures, master classes, and played a solo concert. He also gave an all-Thimmig chamber music concert at SESC Pinheiros, which included a new work commissioned for the occasion, and recorded for future CD release.