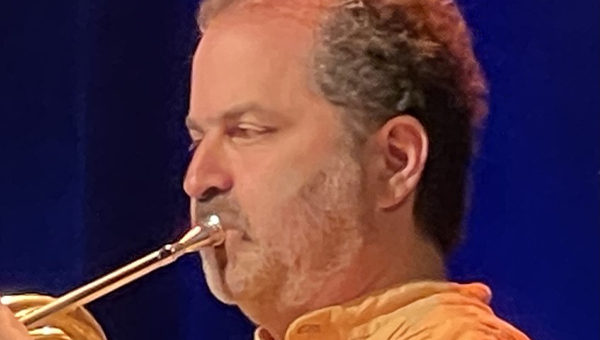 Daniel Grabois
Professor of Horn
Mead Witter School of Music
Education
MM Manhattan School of Music, 1989
BA Yale University (summa cum laude), 1986
Daniel Grabois is Professor of Horn at the Mead Witter School of Music at the University of Wisconsin-Madison, where he plays with the Wisconsin Brass Quintet, a faculty ensemble-in-residence, and teaches a studio of undergraduate and graduate students. Other responsibilities include conducting the UW Horn Choir, which Grabois refashions each spring into Twisted Metal, a French horn rock band playing songs arranged by the students in the horn studio. At UW, he serves as curator of the interdisciplinary series SoundWaves, which he founded in 2012. SoundWaves presents thematic lecture/performance programs that bring together speakers from around the university, and has to date involved collaborations with over 35 UW departments.
Additionally, Grabois is the director of EARS (Electro-Acoustic Research Space) in the School of Music. EARS is equipped with the latest electronic music equipment, and serves as a research facility for faculty and students.
Grabois recently released Air Names, his first solo CD recording, featuring his own compositions for electric horn, bass, and drums. He is currently preparing to release a disc of contemporary works for horn, violin, and piano. These CDs have been generously funded by WARF and the UW Graduate School. As a soloist and master class teacher, Grabois has performed and worked with students at Juilliard, the Manhattan School of Music, the Peabody Institute (Baltimore), McGill University (Montreal), and many other university campuses both in and out of Wisconsin.
For 30 years, Grabois has been a member of the Meridian Arts Ensemble, a New York based new-music brass and percussion ensemble that performs around the world and has released twelve critically acclaimed CDs. With Meridian, he has performed in 49 states, given over 75 world premieres, received two ASCAP/CMA awards for adventuresome programming, and worked with students throughout the US, Europe, Latin and South America, and Asia.
Grabois has also played with almost all of the performing ensembles in New York City where he was based prior to his arrival in Wisconsin. These include the Chamber Music Society of Lincoln Center, Orpheus Chamber Orchestra, Orchestra of St. Luke's, Metropolitan Opera Orchestra, New York City Opera, New York City Ballet, American Ballet Theater, and American Symphony Orchestra. Previous teaching positions have included Chair of Contemporary Performance at the Manhattan School of Music, Artist Teacher of Horn at The Hartt School (CT), and horn instructor at Princeton University. Grabois also served as principal horn of Sequitur, a contemporary music ensemble, with which he recorded a horn concerto written for him by David Rakowski, later premiering it at Lincoln Center.
As a composer, Grabois has published three etude books for horn as well as numerous works of solo and chamber music. In 2012, he composed Gravikord for the Wisconsin Brass Quintet; the ensemble premiered the work on campus and played it on tour throughout the state. His works have been performed on four continents, and are published by Brass Arts Unlimited.
About the Horn Studio
Every horn student at UW-Madison studies with Professor Grabois. The studio ranges in size from 10-15 students, with a mix of undergraduates, masters candidates, and doctoral candidates. Performance majors and music education majors have equal opportunities to play in ensembles. All students study solo works from all periods as well as etudes and orchestral excerpts. In the weekly masterclass, students perform for each other and learn to provide each other with constructive criticism. Occasional visitors provide an outside perspective, and Grabois also discusses all aspects of performance and teaching careers with students. Horn Choir also meets weekly, performing anything from Bach motets to songs by Queen and Radiohead. Grabois is also director of $2 Broom, a student ensemble dedicated to electro-acoustic improvisation.