Announcing New Faculty at the Mead Witter School of Music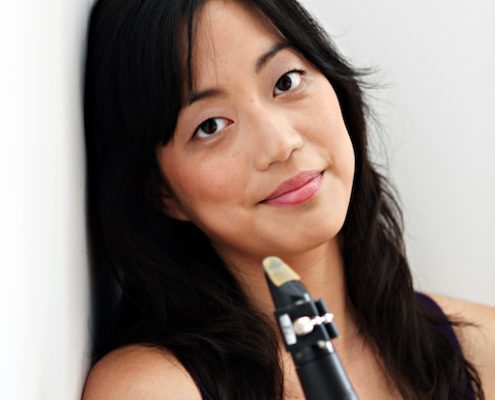 Tuesday, June 20, 2017
Contact:
Katherine Esposito
608.263.5615
kesposito@wisc.edu
The Mead Witter School of Music is pleased to announce the hiring of new faculty. These include one new assistant professor and four new adjunct professors in addition to two instructors. Five of these new faculty replace retired professors John Aley, trumpet; James Smith, orchestra; Linda Bartley, clarinet (interim 2016-2017: Amy McCann); Richard Davis, bass; and Stephanie Jutt, flute.

---
Alicia Lee, assistant professor of clarinet
Born into a musical family, Alicia Lee grew up in Michigan, where she began playing violin and piano at the age of five and switched to clarinet at the age of 12.
Before her appointment at the Mead Witter School of Music, she maintained a busy freelance career throughout New York City, performing and touring regularly with a variety of groups, including the Orpheus Chamber Orchestra, the Knights, Alarm Will Sound, NOVUS, and ACME. She has performed at the Marlboro, Lucerne, Spoleto (Italy and US), Yellow Barn, Festspiele Mecklenburg-Vorpommern, and Bay Chamber music festivals.
Lee is a founding member of Decoda, a chamber music collective comprised of virtuoso musicians, entrepreneurs, and passionate advocates of the arts. The artists of Decoda first collaborated with one another in the renowned Ensemble ACJW fellowship program, created by Carnegie Hall, and they now extend that relationship as the Affiliate Ensemble of Carnegie Hall. She has been fortunate to travel for residencies and performances in venues as diverse as the Guildhall School in London, Lee Correctional Institute in South Carolina, DePauw University, The Colburn School, and Merida, Mexico. She is also the director and on the faculty of the Decoda Skidmore Chamber Music Institute.
Lee is the newest member of the contemporary music group NOW Ensemble, a dynamic collective of composers and performers with the goal of creating music as a continuous collaboration between both parties. Lee was formerly the associate principal and E-flat clarinet player of the Santa Barbara Symphony, a position she held for seven seasons. She also performed as solo bass clarinetist of the Bergen Philharmonic in Norway during the 2013-14 season. She holds a bachelor's degree in French language and literature from Columbia University, and pursued musical studies at The Juilliard School with Charles Neidich and Ayako Oshima as a part of the Columbia-Juilliard exchange program. She earned additional degrees from the University of Southern California and The Colburn School, where she was a student of Yehuda Gilad.
Chad Hutchinson, adjunct professor of orchestras

Newly appointed conductor Chad Hutchinson will lead the Symphony Orchestra, All-University Strings, and University Opera productions. He will also teach undergraduate and graduate conducting courses.
The past two seasons, Hutchinson was assistant conductor of the South Dakota Symphony Orchestra and music director of the South Dakota Symphony Youth Orchestras.  During his tenure, he led the SDSO in numerous pops concerts including artists Ben Folds, Michael Cavanaugh and Steve Lippia, implemented the orchestra's inaugural season of Carnegie Hall's Link Up program in a partnership with the Sioux Falls Public School District, conducted Family Concerts and led the annual "Christmas on the Prairie" concert in Hoven, SD.  Working with students ages 8-18 and conducting three of the four ensembles within the organization, Hutchinson helped the SDSYO grow to the largest enrollment in the program's history, gaining over 75 students in two seasons.  As part of its commitment to new music, each SDSYO ensemble featured a living composer on every concert in the 2016-2017 season.  In addition, the Youth Orchestra performed works by and had residencies with John Luther Adams and Theodore Wiprud while also being one of only three youth ensembles in the country to premiere "Dreamtime Ancestors" by Christopher Theofanidis.
As comfortable in the pit as on the stage, he has recently led productions of Suor Angelica, Le Nozze di Figaro, Susannah and Lady in the Dark with University Opera Theater at the University of Minnesota and The Mikado at Morningside College.   Last year he was awarded third place in the American Prize in Opera Conducting and was recently a finalist for the 2017 Pierre Monteux Prize in conducting.
With a long-standing commitment to education, Hutchinson taught orchestra in the public schools for nine years in Williamsville, NY and Sioux Falls, SD with both programs doubling in size during his tenure.  He later taught collegiately at Iowa's Northwestern College and was the coordinator and music director of the Siouxland Youth Orchestras in Sioux City, Iowa.  He has served as a guest conductor for numerous orchestras and festivals throughout the Midwest, Montana and New York and will return for his third summer on the conducting faculty of the International Music Camp.  As a conducting fellow, he has been selected to participate in conducting workshops at the Juilliard School, Eastman School of Music, the New England Conservatory of Music, the Richmond Symphony and the Bohuslav Martinu Philharmonic Orchestra.
An Iowa native, Hutchinson holds conducting degrees from the University of Minnesota and Bowling Green State University and a bachelor's degree in music education from Morningside College.  Away from the University, he enjoys spending time with his wife and two daughters, training for triathlons and rooting for the Kansas City Royals.
Matthew Endres, adjunct professor of jazz percussion and jazz history
Born in Sauk City, Matthew Endres received his bachelor's of music degree at UW-Stevens Point, his master's degree in jazz studies from the University of Illinois, and his doctoral degree in jazz studies and ethnomusicology at the University of Illinois.  Endres has performed extensively as a bandleader and as a sideman in national and international venues.  He is the drummer for the Downbeat award winning group "Old Style Sextet."  In 2014, they performed in the world renowned Cotai Jazz and Blues Festival in Macau, China.   Endres has appeared on multiple albums including the "Old Style Sextet" self-titled album under "blu jazz records" (2014); "It's About Time" (2013) with the "Adrian Barnett Septet"; Chris Beyt's "120" (2015); The Clark Gibson Studio Orchestra's record entitled "Bird with Strings: The Lost Arrangements" under "blu jazz records" (2015); and the yet-to-be-released University of Illinois Concert Jazz Band's record entitled "The Music of Pepper Adams."
Endres was a top three finalist for the nationally renowned premier big bands "The Jazz Ambassadors" and the "Army Blues," two of the top big bands in the country.  He has been fortunate to work with talented artists including Chris Potter, Doc Severinson, Rufus Reid, Brad Leali, Chris Brubeck, Charles McPhearson, Frank Gambale, Tom Garling, Victor Garcia, Michael Blum, Shawn Purcell, Darden Purcell, Oliver Nelson Jr, Jim Pugh, Dave Pietro, Grammy award winner Charles "Chip" McNeill, Ron Bridgwater, Dave D'Angelo, Carlos Vega, Larry Gray, Glenn Wilson, Richard Drexler, Mark Colby, Alex Graham, Clark Gibson, Tito Carrillo, John "Chip" Stephens, Joan Hickey, and Adrian Barnett. Endres currently holds an endorsement with Bopworks Drumsticks, based in Austin, Texas.
Alex Noppe, adjunct professor of trumpet
Green Bay native Alex Noppe has had a diverse performing and teaching career as a soloist, chamber musician, orchestral player, and jazz/commercial artist.  He is a founding member of and the resident composer/arranger for the Mirari Brass Quintet, which for eight years has performed in concert halls, universities, schools, and churches in over 30 states and China.  Alex has performed with numerous other ensembles across the country, holding positions in the Lansing Symphony, Columbus-Indiana Philharmonic, Monroe Symphony, and the Terre Haute Symphony. He has also performed with the Charlotte Symphony, Indianapolis Chamber Orchestra, Indianapolis Opera, Boise Philharmonic, Shreveport Symphony, and many others. Additional performing credits include the Indianapolis Jazz Orchestra, Hal Leonard Jazz Orchestra, David Baker Big Band, and the Diamond Empire Band. As a chamber musician, he has performed across the United States and in Thailand with the Black Bayou Brass Trio as well as many brass quintets. Alex has played for five years with the Louis Romanos Quartet, which fuses New Orleans jazz with Latin and world music in a variety of rhythmic patterns.  LRQ has released several recordings, toured across the country, and performed on the Jazz Maui Festival.  He has appeared on stage or performed with Eric Alexander, Chris Potter, Randy Brecker, Wayne Bergeron, Johnny Mathis, Hank Jones, the Count Basie Orchestra, the Rolling Stones Project, Sylvia McNair, Byron Stripling, Wycliffe Gordon, John Clayton, Leonard Slatkin, and Garrison Keillor.
Alex has been featured as a soloist with the Green Bay Civic Symphony, Boise State Orchestra, Performing Arts Institute Wind Ensemble, Indiana University Singers, ULM Symphony Orchestra, and was the solo "cellophonist" on David Baker's Concerto for Cell Phones and Orchestra with the Indianapolis Chamber Orchestra. He has been a performer or clinician at the International Association of Jazz Educators Conference, the Big XII Trombone Conference, the NAfME Northwest Conference, the International Tuba & Euphonium Conference, the International Trumpet Guild Conference, and the College Music Society National Conference. From 2004 to 2010 he served as Director of Jazz at the Performing Arts Institute summer music festival and also has taught at the UW-Green Bay Summer Music Clinic and Boise State Chamber Music Camp.  Alex was the organizer and inaugural director of the Idaho All-State Jazz Ensemble, and has served as a clinician/guest artist for festivals in Washington, Oregon, Idaho, Utah, Louisiana, Indiana, Michigan, Nebraska, and Wisconsin.  For four years, he served as executive director of the Gene Harris Jazz Festival in Boise.
In addition to numerous compositions and arrangements written for the Mirari Brass, he has had works premiered by the Arbor Brass Choir, University of Michigan Jazz Ensemble, and Black Bayou Brass. Recording credits include Smack Dab in the Middle from John Clayton and the Hal Leonard Jazz Orchestra, Celestial Dancers by the Philharmonia a Vent, and William Bolcom: Songs of Innocence and Experience featuring Leonard Slatkin and the University of Michigan Symphony Orchestra, which was awarded three Grammy awards in 2006. Alex can be heard on numerous recordings from the Hal Leonard Music Company and FJH Music, and is featured on recent critically acclaimed releases from the Mirari Brass Quintet and the Wave Mechanics Union, as well as the multiple recent albums from the Louis Romanos Quartet.
Prior to his appointment at UW-Madison, Alex has held teaching positions at Boise State University, the University of Louisiana-Monroe, and has additionally taught at Indiana State University, Depauw University, and Indiana University.  He holds a doctoral degree in brass literature and pedagogy from Indiana University as well as a master's of music in trumpet performance from IU, studying with John Rommel, Anthony Plog, and David Baker. He also has dual bachelor degrees in trumpet performance and jazz studies from the University of Michigan, where he studied with William Campbell, William Lucas, Ellen Rowe, and Dennis Wilson.  Alex is a Conn-Selmer Endorsing Artist and plays on Bach trumpets.
Timothy Hagen, adjunct professor of flute
Newly appointed to the faculty at the University of Wisconsin-Madison, Timothy Hagen is an internationally acclaimed flutist, praised for his "technical virtuosity and musical sensitivity" (NewMusicBox). He won first prize as well as the award for Best Performance of the Newly Composed Work (Gary Schocker's Prestidigitation, or POOF!) at the 2016 Myrna W. Brown Artist Competition, sponsored by the Texas Flute Society. Past awards include second prize at the Australian International Flute Competition, the Jack Smith Memorial Award for Most Promising Talent at the Pasadena Showcase House Instrumental Competition, two artist grants from the Léni Fé Bland Foundation, and the prestigious graduate scholarship from the Jack Kent Cooke Foundation. He was also the only American semifinalist named in the 2007 Jeunesses Musicales International Flute Competition in Serbia.
As principal flute of the Missouri Symphony, Hagen spends his summers in Columbia, MO, where he has performed multiple times as a concerto soloist. He has also substituted regularly with the Symphony of Northwest Arkansas and as principal flute with the Dallas Wind Symphony. Over the past decade, he has been active as a guest musician with ensembles throughout the country, including the Minnesota Orchestra, San Antonio Symphony, Eugene Symphony, Midland-Odessa Symphony, Las Colinas Symphony, and Winston-Salem Symphony. In addition, he has had solo debuts at New York's Lincoln Center and 92nd Street Y and performed at the Atlantic, Hot Springs, and Las Vegas Music Festivals, as well as the Norfolk and Austin Chamber Music Festivals.
The depth and breadth of Hagen's experience as an educator distinguish him. In addition to his current role at UW-Madison, he has taught at Oklahoma State University, The University of Texas at Austin, Lincoln Center, the Los Angeles Philharmonic, the Dallas Symphony, and Brookhaven College, among many other fine institutions. His students have consistently won regional and national awards and auditions, and he is in high demand as a teacher, clinician, and speaker at universities, festivals, and conventions throughout the United States, Canada, and Australia. He is also frequently called upon as an adjudicator on regional and national levels, including for the National Flute Association's Young Artist and Piccolo Artist competitions.
Increasingly in demand as a composer, Hagen has won awards from the American Composers Forum and MetLife Creative Connections. His chamber and solo works for flute, published by Owl Glass Music, have been commissioned and performed throughout the United States and were mentioned favorably in the February 2014 issue of Flute Talk. He composed the newly commissioned work for the Texas Flute Society's 2017 Myrna W. Brown Artist Competition, and upcoming commissions include a piece for alto flute and piano for Marianne Gedigian (Professor of Flute at the University of Texas at Austin), and a work for piccolo and piano to honor the legacy of longtime Cincinnati Symphony solo piccoloist, Jack Wellbaum. His pedagogical and scholarly work is published by Owl Glass and in national and international journals, such as the NFA's Flutist Quarterly and the British Flute Society's Pan.
Service to his musical community is also important to Hagen, as demonstrated in his volunteer roles. He is currently on the National Flute Association's pedagogy committee and co-coordinates its annual Youth Flute Day. Additionally, he served as board member and master class coordinator for the Texas Flute Society from 2014-2017 and as corporate sponsorship chair on the board of the award-winning Flute New Music Consortium from 2015-2016.
Hagen received his DMA from the University of Texas at Austin, a professional studies certificate from the Colburn School, a master's degree in music from the University of Southern California, and a bachelor's degree in music from the University of North Carolina School of the Arts. His former flute teachers include Jim Walker, Marianne Gedigian, Philip Dunigan, Renée Siebert, Tadeu Coelho, Chelsea Czuchra, Felicia McNaught, and Tina Ballard.
David Scholl, instructor of double bass
Double bassist David Scholl, newly appointed to the faculty of the University of Wisconsin-Madison, currently serves as principal bass of the Madison, Quad City, and Dubuque Symphonies. He frequently appears with Elgin, Rockford, and South Bend Symphonies, among others, and was previously a member of the Illinois Symphony.  David is also active in the new music community, including appearances as a guest artist on Chicago Symphony's MusicNOW series, University of Chicago's Contempo series, and with the Spektral Quartet.
In addition to his work as a performer, David maintains an active private studio. He also appears as a guest clinician in music programs in and around the Midwest. A product of the public school system himself, David makes it a priority to present in public schools and non-profit music programs, including UW-Madison's Summer Music Clinic.
David was born and raised in Bellevue, Washington and started bass in fifth grade. He received both his bachelor's and master's degrees at Indiana University, where he studied bass with Bruce Bransby. While there he also studied historical performance from distinguished professor Stanley Ritchie, and spent the summers studying bass with Owen Lee, Jeff Turner, and Peter Lloyd. David continued studies as a fellow at the Aspen Music Festival and at the Civic Orchestra of Chicago, where he was principal bass and studied with Alex Hanna.
Matthew Richardson, instructor of musicology
Matthew Richardson, associate instructor of ethnomusicology, has taught world music at UW-Madison since fall of 2016. Earlier that year, he completed his Ph.D in musicology at Northwestern University; his primary research investigates aesthetics and fan culture in the Japanese pop music genre known as idol music. He uses approaches from semiotics, mediation, and aesthetic philosophy to understand the role music plays in cultures' attempts to understand one another. His other research interests include the introduction of European music to mid-nineteenth-century Japan and representations of Japan in U.S. and European culture. His master's degree is also from Northwestern, and he earned a bachelor's degree in music history from Oberlin College, minoring in trombone. (Photograph coming soon.)