03oct7:30 pmPro Arte Quartet7:30 pm CST Hamel Music Center - Mead Witter Foundation Concert Hall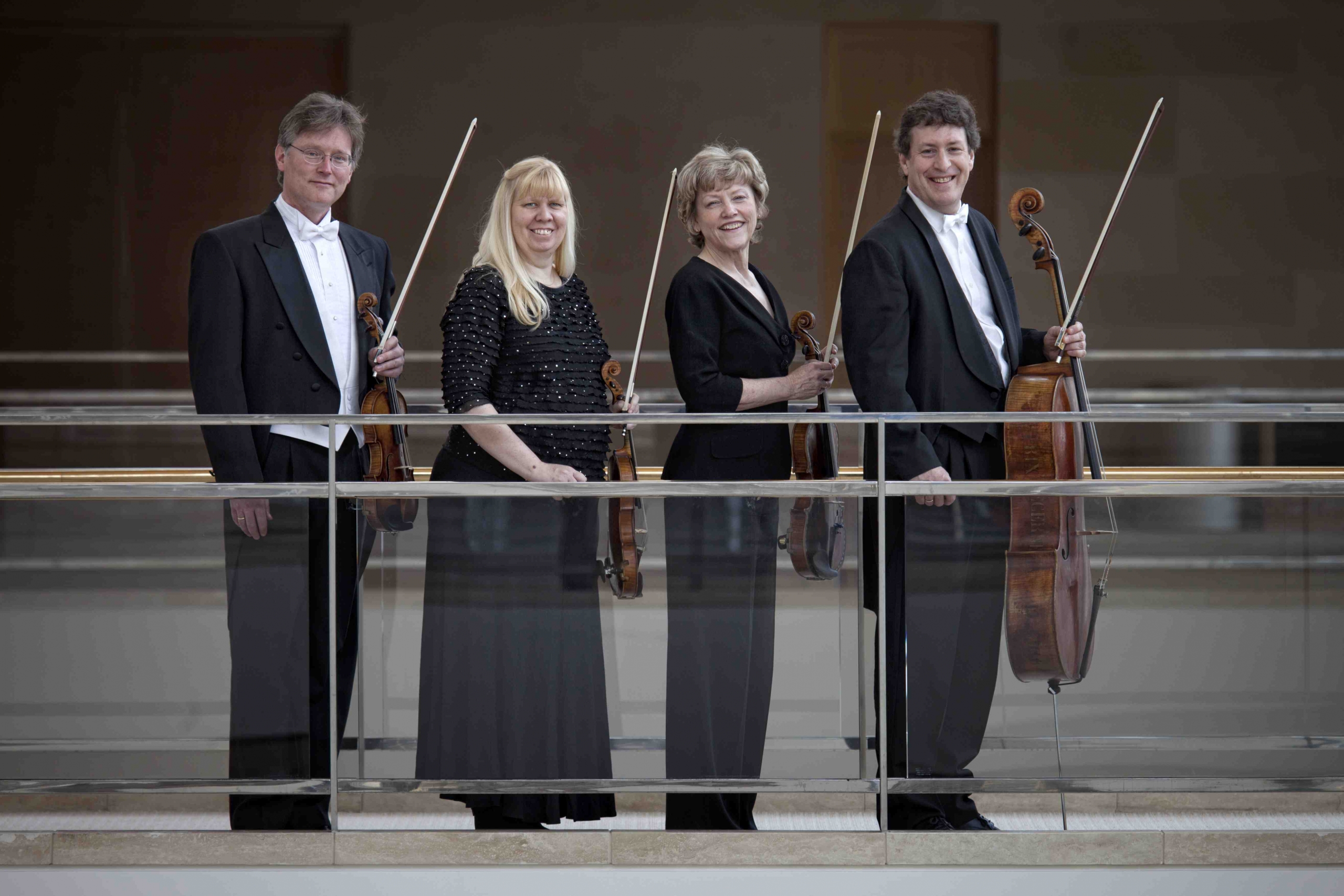 Event Details

Tickets
Pro Arte Quartet concerts at the Hamel Music Center are free to attend, but require a ticket.

David Perry, violin
Suzanne Beia, violin
Sally Chisholm, viola
Parry Karp, violoncello

With special guest Samuel Rhodes, viola

Mead Witter School of Music Faculty Concert Series

……

Program

Fugue for String Quintet in D Major, Op. 137 (1817)      Ludwig van Beethoven (1770-1827)
Allegretto

String Quintet in C Major, Op. 29 (1801)       Ludwig van Beethoven
Allegro moderato
Adagio molto espressivo
Scherzo: Allegro
Presto

String Quartet in C Major, Op. 59 No. 3 (1808)       Ludwig van Beethoven
Introduzione: Andante con moto-Allegro vivace
Andante con moto quasi Allegretto
Menuetto grazioso
Allegro molto

……

Violist Samuel Rhodes, born in New York City, has appeared as soloist with orchestras in Oregon, New Jersey, and New York. He has played solo recitals at Columbia University, Princeton University, and Carnegie Recital Hall. He has participated in the Marlboro Music Festival since 1960 and several times was the featured artist in the Music From Marlboro series at Town Hall and on tour throughout the Eastern U.S., Canada, in a State Department-sponsored tour of Europe, and in the Near East.

Rhodes was a member of the Galimir String Quartet from 1961-69. He joined the Juilliard String Quartet in 1969. He received his B.A. from Queens College and his M.F.A. from Princeton University. He has studied with Earl Kim, Roger Sessions, Sydney Beck, and Walter Trampler. Rhodes has been a faculty member since 1969 and was co-chair of the viola department from 1992-2001. He has been chair of the viola department since 2002.

……

The Pro Arte Quartet (PAQ) is one of the world's most distinguished string quartets. Founded by conservatory students in Brussels in 1912, it became one of the most celebrated ensembles in Europe in the first half of the twentieth century and was named Court Quartet to the Queen of Belgium. Its world reputation blossomed in 1919 when the quartet began the first of many tours that enticed notable composers such as Milhaud, Honegger, Martin, and Casella to write new works for the ensemble. In addition, Bartók dedicated his fourth quartet to the PAQ (1927), and in 1936 PAQ premiered Barber's Op. 11 quartet, with the now-famous "Adagio for Strings" as its slow movement.

The Pro Arte made its New York debut in 1926 and toured the United States frequently under the auspices of Elizabeth Sprague Coolidge. The quartet was performing in Madison, Wisconsin in May 1940 when Nazi forces invaded Belgium. The University of Wisconsin responded to the emergency by offering the quartet a permanent campus home, the first such arrangement at a major American university. The UW Pro Arte residency became a model of artist residencies that is now widely emulated throughout the country.

As the first and only quartet ever to reach its centennial anniversary (2012), the Pro Arte's 100th birthday was the occasion for a grand multi-year celebration. At its center was the commission of six new works by some of today's most important composers: William Bolcom, Paul Schoenfield, John Harbison, Walter Mays, and Pierre Jalbert (United States), along with Benoît Mernier from Belgium. Other initiatives included a lecture series, museum exhibits, recordings on the Albany label, a video documentary broadcast on Wisconsin Public Television and available on DVD, a concert tour to Belgium, and an upcoming book on the storied history of this illustrious quartet.

The Pro Arte Quartet performs throughout the United States, Europe, and Asia and continues to champion equally both standard repertoire and new music. The group is an ensemble in residence at the UW-Madison School of Music and resident quartet of the Chazen Museum of Art, performing regularly on the concert series of both institutions. The quartet has performed at the White House and, during the centennial celebration, played for the King's Counselor in Belgium. Recent projects include the complete quartets of Bartók and Shostakovich and, in collaboration with the Orion and Emerson String Quartets, the complete quartets of Beethoven. Regular chamber music collaborators that perform with Pro Arte include Samuel Rhodes, viola; Bonnie Hampton, cello; and Leon Fleischer and Christopher Taylor, piano.
Time

(Sunday) 7:30 pm CST
Location

Hamel Music Center - Mead Witter Foundation Concert Hall

740 University Avenue
Hamel Music Center - Mead Witter Foundation Concert Hall740 University Avenue