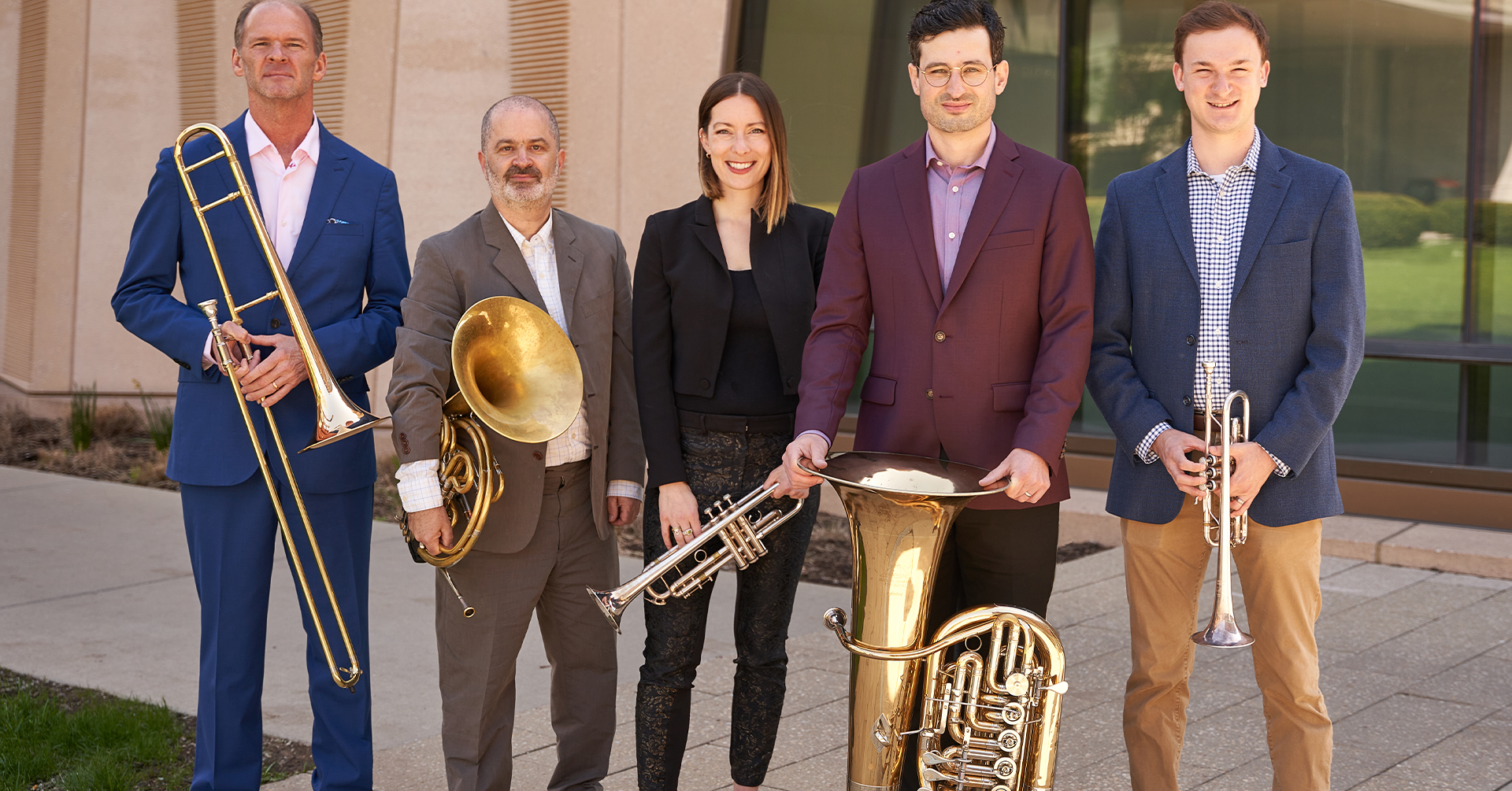 Watch the October 29 live stream
The Wisconsin Brass Quintet, a faculty ensemble-in-residence at the Mead Witter School of Music, is celebrating its 50th anniversary this year. At the forefront of brass chamber music since the group's founding in 1972, the Wisconsin Brass Quintet has offered countless concerts, clinics, workshops, residencies, and other educational services throughout Wisconsin and the nation.
The ensemble celebrates its milestone achievement with a concert and reception on October 29 at 2 pm at the Hamel Music Center. The concert includes performances of pieces by Emeritus Professor of Tuba John Stevens, Emeritus Professor of Horn Doug Hill, and current Professor of Horn Daniel Grabois, with special guest John Aley, Emeritus Professor of Trumpet.
"The Wisconsin Brass Quintet has brought the sounds of brass music of all eras off campus, and is a loud and vital audio representation of the Wisconsin Idea," Grabois said. "Within the ensemble, graduate students have always filled the second trumpet chair, and they have gone on to illustrious careers of their own. The WBQ is proud to represent UW–Madison, and looks forward to the next 50 years of playing and teaching."
Emeritus Professor of Tuba John Stevens, who played with the ensemble for nearly three decades, congratulated the current members of the group as they begin the next half century of brass artistry and innovation.
"As representative of the Mead Witter School of Music through live performances, recordings, and master classes, the quintet has brought the highest level of musical artistry and pedagogy to the greater Madison community, throughout the state of Wisconsin and around the country," Stevens said. "I can think of no musical endeavor more rewarding than playing chamber music of all styles and eras with consummate musicians who bring the highest artistic standards to every note and phrase."
The ensemble has always maintained a commitment to commissioning and performing new music, and has worked with composers such as Verne Reynolds, Jan Bach, Karel Husa, John Harbison, Daron Hagen, and more.
Emeritus Professor of Horn Douglas Hill played with the quintet from 1986 to 2011 and composed several pieces for the group.
"Some of the most enjoyable memories of my 25 years with the Wisconsin Brass Quintet occurred when we rehearsed and frequently performed my 'Timepieces for Brass Quintet,'" Hill said. "I composed that five movement work in 1997 as a celebration piece for the ensemble's 25th anniversary. Knowing, after 10 years, that my colleague's musical talents, sensitivities, and abilities were limitless, that allowed me to write whatever I thought sounded good at the time."
Current members of the Wisconsin Brass Quintet include Jean Laurenz, trumpet; John Wagner, trumpet; Daniel Grabois, horn; Mark Hetzler, trombone; and Tom Curry, tuba.
0
0
Eric Murtaugh
Eric Murtaugh
2023-10-19 10:38:30
2023-11-02 13:35:51
Wisconsin Brass Quintet celebrates 50 years