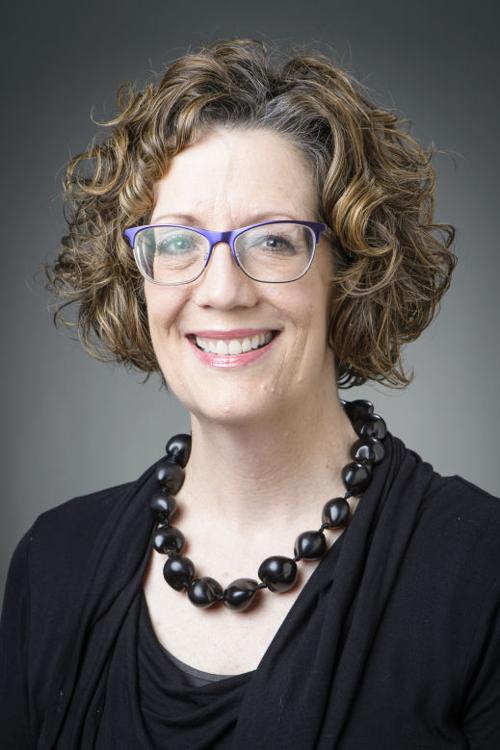 Teryl Dobbs
Professor of Music Education
Mead Witter School of Music
Education
Ph.D., Northwestern University, Evanston, IL, Music Studies: Music Education, 2005
M.M. Northwestern University, Evanston, IL, Music Education, 1992
B.F.A., Magna cum laude, University of South Dakota, Vermillion, SD., Music Education, 1979
"Why Teach the Holocaust Today?"
Program recorded on Wisconsin Public Radio's "University of the Air," September 17, 2017. With UW-Madison Professors Teryl Dobbs and Rachel Brenner; Jessica Kasinski, Ph.D; and WPR host and UW-Madison professor Emily Auerbach.
https://www.wpr.org/shows/why-teach-holocaust-today
"Performing the Jewish Archive"
School of Music: https://www.music.wisc.edu/2014/10/28/share-grant-jewish-culture/
University of Leeds: http://ptja.leeds.ac.uk/
Selected Publications
Equity in Music Education; Being "Schooled" on Disability
A Critical Analysis of Disabilities Discourse in the Journal of Research in Music Education, 1990-2011
Professor Teryl (Teri) L. Dobbs is Professor and Chair of Music Education in the Mead Witter School of Music, University of Wisconsin-Madison. She holds affiliate faculty positions in the Department of Curriculum and Instruction (School of Education), Mosse/Weinstein Center for Jewish Studies, Center for Russia, East Europe, and Central Asia (CREECA), Disabilities Studies Initiative, and the Division of the Arts. She earned the Ph.D. in Music Studies—Music Education from Northwestern University as well as the Master's in Music Education. She holds the Bachelor's of Fine Arts from the University of South Dakota. Before arriving at UW-Madison in 2006, Dr. Dobbs taught for 17 years in Highland Park, Illinois; Yankton, South Dakota; and Colorado Springs, Colorado. Prior to her teaching career, she performed professionally as a flutist and singer, including her service in the United States Air Force Academy Band.
Dr. Dobbs is actively involved with multiple organizations in the profession and currently serves on the College Music Society's National Board for Music Education. Additionally, her professional affiliations include or have included the National Association for Music Education, European and International Societies for Music Education, International Society of Philosophy in Music Education, MayDay Group, Wisconsin Music Educators Association, American Education Research Association, Association for Jewish Studies, and Association for Slavic, East European, and East Asia Studies. She presents nationally and internationally at conferences sponsored by these organizations, most recently at the Cultural Diversity in Music Education conference held at the Levinsky School of Education in Tel Aviv, Israel.
Her publications have appeared in the Philosophy of Music Education Review, Bulletin of the Council for Research in Music Education, Music Educators Journal, and Mountain Lake Reader as well as contributing several chapters to multiple edited volumes; she often serves as a peer reviewer. Dr. Dobbs is completing Gido's Voices! Connecting Creative Czech Youth with Gideon Klein, a grant awarded by the United States Embassy in Prague, Czech Republic and recently completed her work as international co-investigator/principal investigator on Performing the Jewish Archive Large Grant, a $2.5 million granted awarded by the United Kingdom's Arts and Humanities Research Council (AHRC). Additionally, she has been awarded multiple grants from the Wisconsin Alumni Research Foundation (WARF) for her research into the musical experience of the Holocaust—interviewing survivors of the Holocaust and undertaking archival research in the Fortunoff Video Archive for Holocaust Testimonies, Yale University; Shoah Foundation Visual History Archives, University of Southern California; Jewish Museum in Prague Oral History Archive and Terezín Collection; Terezín Memorial Documents and Collections Archive; Yad Vashem Archives, Jerusalem; Beit Theresienstadt Archives, Israel; Robert D. Farber Archives and Special Collections, Brandeis University Library; and United States Holocaust Memorial Museum. Dr. Dobbs teaches undergraduate courses in music learning and teaching for pre-service music educators and in Jewish Studies. Her graduate courses include foundational and topic courses in Music Education, pedagogy for arts performers, and music and genocide. Her scholarly/research interest areas include interrogating the roles of music within genocides, particularly the Shoah; trauma and Music Education; the roles that space and place play in music making, and musical creativity; education policy and theory within Music Education in/equities; human difference and disability studies; and conceptualizing just action and ethics in Music Education. Dr. Dobbs' research and teaching reflect her deep commitment to just, ethical action and transformative thinking within a critical, culturally relevant, and empathic approach to music learning and teaching.